Main Menu
CURRENT SEASONAL SPECIALS
Subject to availability 
TATER TOT POUTINE
tater tots topped with cheese curds and brown sauce
7 / 12
BUTTERNUT RISOTTO
our famous risotto blended with apple butternut squash 
6 / 10
SALT AND VINEGAR WINGS
our famous wings have a new flavor!
11 / 18
PASTA CARBONARA
sautéed chicken, prosciutto, peas tossed with bow ties in a traditional garlic Parmesan sauce served with garlic bread 
17
CHICKEN SUPREME
boneless fried chicken breast topped with supreme sauce, served with 2 sides and cranberry chutney
17
PUMPKIN RAVIOLI
tossed in hazelnut cream sauce, spinach and craisins
14
GRILLED MEATLOAF
a combination of ground veal, sirloin and pork finished on the char-grill, topped with Guinness gravy and frizzled onions and served with 2 sides 
17
MEDITERRANEAN PLATE
grilled lamb over basmati rice served with hummus, tabbouleh and pita bread
18
CHICKEN STIR FRY
a hibachi style stir fry tossed with rice noodles
17
COOKIE-COOKIE ICE CREAM CAKE
oreo cookie and cookie dough ice cream, made at Slappy's Frozen Treats
7
TOLLHOUSE SKILLET
tollhouse baked with chocolate ganache, topped with whipped cream, served with Gifford's vanilla bean ice cream
8
CREME' BRULEE BREAD PUDDING 
served with Gifford's vanilla bean ice cream
8
APPETIZERS
SESAME AHI TUNA
Cooked rare, served on Asian Slaw
13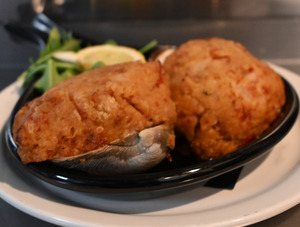 STUFFED QUAHOGS (2)
While most places are serving frozen,
we make ours in house with love
10
STUFFED MUSHROOMS
loaded with shrimp and scallop stuffing
11
SCALLOPS AND BACON (8)
served over balsamic drizzle
14
BACON PARMESAN BRUSSEL SPROUTS
roasted with garlic-parm, topped with bacon and balsamic glaze
6/10
FRIED SHEPHERDS PIE
ground beef, corn, garlic smashed potatoes and gravy rolled up, breaded and fried, topped with port wine brown sauce and scallions
12
JERK CHICKEN WINGS
marinated wings, char-grilled with pineapple
11/18
MIDDLE EAST PLATE
Homemade hummus, quinoa
tabbouleh, fresh pita chips, feta,
roasted red peppers and olives
10
WAFFLE SLIDERS
fried chicken breast, bacon, apple
chutney, served with maple syrup
12
HOG TOTS
Deep fried tater tots topped with house
smoked pull pork, bacon and
homemade cheese sauce
8 / 15
MOZAMBIQUE FRIES
Hand cut fries topped with linguica,
jack/cheddar, Mozambique sauce
6 / 11
TRUFFLE FRIES
Hand cut fries, fresh Parmesan
cheese, parsley and truffle oil
5 / 8
SLAP SHOTZ NACHOS
**Our scratch made cheese sauce**,
onion, tomato, olives, jalapenos
/ Nacho add ons: homemade chili,
grilled chicken, grilled BBQ
chicken, fried buffalo chicken, our
house smoked pulled
pork for $4 each /
6 / 10
BALLPARK SLIDERS
Grilled ground sausage burgers topped
with peppers and onions
12
PULLED PORK SLIDERS
Topped with homemade coleslaw and
onion rings
12
TERIYAKI STEAK AND CHEESE
SLIDERS
Topped with onion jam
12
SPINACH ARTICHOKE DIP
Served with warm chips
11
BUFFALO CHICKEN DIP
Served with warm chips
11
CHICKEN WINGS OR
BONELESS TENDERS
Sauce choices: Buffalo, Garlic/Parm,
Cajun, BBQ, Mango/Habanero, Honey
BBQ, Thai Chili, Gold Fever, Salt/Vinegar
/ Southern Fried wings add $1 /
11/18
VEGGIE QUESADILLA
peppers, mushrooms, onions,
cheddar/jack cheese. Add ons:
chicken +4, steak +7 or shrimp +5
9
SNACK ATTACK
Buffalo wings, chicken fingers, potato
skins, mozzarella sticks and O-rings
18
FRESH-MADE RISOTTO
Roasted garlic or mushroom
6 / 10
ARANCINI BALLS
Our famous risotto deep fried and
Served on pink sauce
10
EGG ROLLS (2)
Ask your server for today's flavor
7
FRIED PICKLES OR FRIED
MUSHROOMS
6/9
HOME - MADE SOUPS
FRENCH ONION SOUP
topped with croutons and Swiss cheese
7
4/6
GARDEN FRESH SALADS
SOUTHWESTERN SHRIMP SALAD
Mixed greens topped with grilled shrimp, avocado, roasted red peppers, roasted corn pico and crispy tortilla strips, served with avocado ranch
15
FRESH ARUGULA SALAD
Tossed with sliced apples, craisins, candied pecans, red onion, bacon, feta, served with orange-maple vinaigrette
13
Mixed greens with grilled chicken, bacon, hard boiled egg, avocado , tomato, red onion, and blue cheese crumbles
15
TOSSED SALAD
Greens, tomato, cukes, red onion, green pepper, olives
4/7
GOAT CHEESE SALAD
Mixed greens with sun dried tomatoes, red onions, candied walnuts, oranges, served with orange vinaigrette
13
ASIAN TUNA SALAD
Seared Ahi Tuna, cooked rare, served over fresh greens, naba cabbage, cukes, avocado, hard boiled egg, red onions, scallions, tomatoes, fried wantons, served with Asian Wasabi Dressing
15
CAESAR SALAD
Crisp romaine hearts tossed in creamy dressing with shredded Parmesan and homemade croutons
5/8
GREEK SALAD
Our tossed salad with feta cheese and banana pepper rings
6/9
Salad additions: quinoa tabbouleh- $2, grilled chicken- $4, turkey tips-$5, roasted turkey- $5
buffalo chicken- $5, steak tips- $7, grilled shrimp (4)- $6
House made dressing choices: Greek, Blue Cheese, Ranch, Orange Vinaigrette, Maple-Orange Vinaigrette,
Russian, Parmesan Peppercorn, Balsamic Vinaigrette. Other choices: Honey Mustard and Caesar
SIGNATURE PASTA AND RICE BOWLS
pasta choices: penne, cellantini, bowties, capellini
CHICKEN, SAUSAGE AL FORNO
Sautéed chicken and sausage,basil,
bolognese sauce, cheese, and penne
17
CHICKEN, BROCCOLI ALFREDO
Sautéed chicken with tender broccoli
tossed with our homemade Alfredo
sauce and penne pasta
17
GUINNESS STROGANOFF
Sautéed steak tips and mushrooms tossed with Guinness gravy, sour cream and bowtie pasta
20
CBJ MAC AND CHEESE
Sautéed chicken, bacon, jalapeno,
house made 7 cheese sauce and cellantine,
topped with Ritz
17
TRUFFLE MAC AND CHEESE
Our house made 7 cheese mac and cheese topped with Ritz crumbs and drizzled with truffle oil and baked
13
BUFFALO CHICKEN ALFREDO
Sautéed chicken tossed in buffalo
Alfredo sauce and penne pasta,
topped with blue cheese crumbles
17
PULLED PORK MAC & CHEESE
house smoked pork combined with our
house made 7 cheese mac and cheese topped with bacon and a BBQ drizzle
 
17
CHICKEN PARMESAN
hand breaded chicken breast topped with homemade marinara, mozzarella and  provolone cheeses  over capellini
17
GRECIAN TORTELLINI
Cheese tortellini tossed with garlic
butter sauce, feta cheese, fresh
spinach and cherry tomatoes
14
AMERICAN CHOP SUEY
Sautéed seasoned ground Angus,
peppers and onions tossed with our
homemade marinara and cellantini
16
FAJITA RICE BOWLS
Sautéed with peppers and onions
served over basmati rice
/ chicken- 16, shrimp 18, steak 20
pick two- 18, all three- 20 /
SHRIMP OR CHICKEN MOZAMBIQUE
Tender shrimp or diced chicken breast simmered in a
traditional garlic, wine, saffron sauce
served over basmati rice
 
17
JAMBALAYA
Chicken, shrimp, linguica, peppers and
onions simmered in a cajun tomato
sauce over basmati rice
18
THAI-CHILI STIR FRY
Sautéed chicken and fresh vegetables
tossed in a sweet chili sauce served
over basmati rice
17
BAKED CHICKEN AND RICE CASSEROLE
Sautéed chicken and broccoli tossed in a creamy cheese sauce and rice topped with Ritz crumbs 
18
STUFFED PEPPERS
Our house made blend of ground beef, basmati rice, onions and seasonings
16
DINNER ENTRÉES
Enhance your dinner with a grilled shrimp skewer (4) for an additional $6
Smother it with grilled peppers, onions, mushrooms and cheese for $3
Jeff Rare: waved over the fire / Rare: cool raw center / Medium Rare: red warm center
Medium: pink center / Medium Well: slightly pink center / Well: no color, somewhat dry
Sides:
baked potato, basmati rice, fries, garlic smashed potatoes, pasta, coleslaw, salad, broccoli, green beans, corn, zucchini or Italian zucchini
Premium Sides: 
apple butternut, mac & cheese, Brussel sprouts, tater tots, sweet potato fries, onion rings +$1, risotto +1.50
FISHERMAN'S PLATTER
Generous portions of haddock,
scallops, shrimp, clam strips, hand cut
fries, onion rings, and coleslaw
30
FRIED HADDOCK PLATTER
Fried Shrimp-16, Clam Strips-15, Fried Scallops-24,  Pick two-22
/ served with fries & coleslaw /
18
BAKED STUFFED HADDOCK
Fresh haddock baked with seafood
stuffing, served with 2 sides
22
FRIED CLAM CHOWDER
A bowl of our homemade chowder
topped with fried clam strips
12
SEAFOOD CASSEROLE
Fresh baked haddock, scallops, shrimp
topped with Ritz crumbs, with 2 sides
*Baked Haddock- 18, *Shrimp- 17, *Scallops- 24, -Pick Two- 22
28
GREEK STYLE HADDOCK
Fresh haddock filet baked with fresh
spinach, tomatoes and feta cheese,
served with 2 sides
19
CHICKEN PICATTA
sautéed boneless breast with capers, roasted garlic butter, lemon and wine, served with 2 sides
17
SOUTHERN FRIED CHICKEN
Our roasted ½ chicken in a seasoned breading, deep fried, with 2 sides
17
SHEPHERDS PIE
Seasoned ground Angus, corn, and
scratch gravy topped with garlic
smashed potatoes
16
MARINATED STEAK TIPS
10 oz portion marinated in our famous
family recipe char-grilled and served
with 2 sides
25
JD TURKEY TIPS
Char-grilled tips with peppers,
mushrooms, onions, and our house
made Jack Daniels BBQ sauce,
served with 2 sides
17
ROASTED PRIME RIB WITH AU JUS – 10 OZ. QUEEN 23 / 16OZ. KING 29
**available Thurs-Sun while it lasts, served with 2 sides**
 
HAND PRESSED BURGERS
Half pound of fresh ground angus served with hand cut fries. Sub onion rings, tots, sweet potato fries +1 Lettuce, tomato, sliced pickles and onion are available by request at no additional charge Toppings starting at .75 : pineapple, o-rings, banana peppers, bacon, avocado, blue cheese, fried egg
TRUFFLE PARMESAN BURGER
Bacon, homemade potato sticks, cheddar cheese, truffle Parmesan aioli 
15
GARDEN STYLE BURGER
Tomato jam, arugula, pickled onions, cheddar cheese
13
MEXICAN BURGER
Taco seasoned with cheddar-jack,
pico, lettuce, topped with crispy
tortillas, sour cream
14
POPEYE BURGER
Topped with spinach/artichoke dip and
roasted red peppers.
14
SOUTHERN BURGER
Bacon, BBQ, cheddar cheese
14
MONSTAH BURGER
For the hearty appetite- 10 oz burger
stacked with our house smoked BBQ
pulled pork, onion rings and coleslaw
17
SAVORY BURGER
Pepper-jack cheese, roasted red
peppers, pesto, onion jam
15
JAMMIN' BLUE BURGER
Bacon jam, blue cheese, fried banana
peppers
14
PHILLY BURGER
Grilled onions, peppers, cheddar
cheese
13
CALIFORNIA TURKEY BURGER
Seasoned fresh ground turkey topped
with avocado, spinach and pepper
jack cheese
15
CLASSIC BURGER
Choice of American, Cheddar, Pepper
Jack or Swiss
/ Classic Turkey Burger 13 /
12
IMPOSSIBLE BURGER
plant based burger
15
FRESH-MADE SANDWICHES
All sandwiches served with hand cut fries, sub onion rings, tots or sweet potato fries for an additional $1
MAHI-MAHI TACOS
Grilled with corn pico de gallo, lettuce cheddar-jack, avocado ranch
18
GREEK STEAK TACOS
Steak tips, lettuce, tomato, red onions, feta, Tzatziki sauce
18
SURF AND TURF PO-BOY
thinly sliced prime rib, Cajun fried shrimp, lettuce, tomato, BBQ-horseradish
sauce, on a Parmesan crusted baguette
19
FRENCH DIP
Thinly sliced prime rib, caramelized
onions, Swiss cheese on a toasted French baguette
18
HAWAIIAN CHICKEN
Grilled BBQ chicken breast, bacon
jam, grilled pineapple, lettuce, tomato,
on a brioche roll
14
BOSTON BURRITO
A grilled flour tortilla filled with fried
haddock, lettuce, pico de gallo, jack
cheddar cheese, served with a side
/ you can sub fried chicken /
14
STEAK BOMB
Shaved steak grilled with peppers,
onions, mushrooms,cheddar cheese
on a Parmesan crusted baguette
16
CLASSIC REUBEN
House cooked corned beef, sauerkraut,
Russian dressing, and Swiss cheese
on grilled marble rye
15
THE SINKER
Fried haddock, lettuce and American
cheese, served on a brioche roll
14
ARTISAN TURKEY BAGUETTE
Oven roasted turkey, tomato jam, arugula, avocado, cucumbers, pepper-jack cheese on a toasted French baguette
14
MEDITERRANEAN CHICKEN WRAP
Marinated grilled chicken, hummus,
quinoa tabbouleh and rice
12
CHICKEN BREAST SANDWICH
Have it crispy or grilled, choose from
buffalo, teriyaki, BBQ or honey BBQ
with lettuce and tomato on a wrap or
brioche roll
/ Chicken, Bacon, Ranch- 14
Chicken Caesar Wrap- 12 /
12
FAMOUS BAR STYLE PIZZA
SCALLOP AND BACON
Garlic butter base, scallops, bacon, balsamic reduction
17
MOZAMBIQUE PIZZA
Traditional garlic, wine, saffron sauce with chicken, linguica, basmati, cheese
14
BUFFALO CHICKEN
Red hot sauce base, fried chicken
13
WHITE
Garlic butter base and a combination
of cheeses
12
CHZ-BURGER DELUXE
Ketchup/mustard base, ground beef,
onions, pickles
14
BBQ CHICKEN
BBQ sauce base, grilled chicken, bacon
13
GREEK
Garlic butter base with a combination of
cheeses and tomatoes
12
"C-B-R"
Grilled chicken, bacon, ranch drizzle
14
MEAT LOVERS
Pepperoni, sausage, bacon, ground
beef, linguica
15
SUPER VEGGIE
Peppers, onions, mushrooms, broccoli,
tomato
13
PLAIN CHEESE- 10 / ADDITIONAL TOPPINGS – STARTING AT $1
Extra cheese, bacon, banana peppers, broccoli, garlic, green peppers, grilled chicken, ground beef, jalapeno, linguica,
meatballs, mushrooms, onions, olives, pepperoni, pineapple, roasted red peppers, sausage, tomatoes, spinach
SLAP SHOTZ KIDS MENU
Available for kids 12 and under. All in house kids meals include a small beverage and a dish of ice cream.
CHEESE QUESADILLAS
Served with one side
/ add chicken +2, steak +3 /
6
GRILLED CHICKEN
Char-grilled to order with your choice
of sauce and one side
8
STEAK TIPS (5OZ.)
Char-broiled, served with one side
10
PASTA WITH SAUCE
Choose from marinara or butter
/ add meatballs +$2 /
6
MINI CHEESE PIZZA
/ toppings starting at .75 /
6
CHICKEN FINGERS (3)
Choice of sauce, served with one side
7
CHEESEBURGER SLIDERS (2)
Served with one side
7
MACARONI AND CHEESE
Our house made seven cheese sauce, boxes are for amateurs!
6